The year 2021 has brought unprecedented challenges for small business owners globally.
Small businesses have been particularly vulnerable to such stringent measures with social distancing protocols, enforced lockdowns, and stay-at-home orders.
A Small Business Administration (SBA) survey suggests that the three most impacted industries during the pandemic were accommodation and food services (84%), arts, entertainment, and recreation (75%), and educational services (74%).
Despite challenging operational conditions and setbacks, the number of new business applications in 2020 also broke a 13-year record.
How come?
Because many new growth vectors emerged:
Ecommerce: US market sales are projected to hit $1.045 trillion by 2022.
Public cloud services: Global revenue is forecasted to grow to $332.3 billion in 2021.
Beauty and personal care products: US revenue is expected to reach $128.7 billion in 2030.
The latest data from the US Census Bureau (of July 2021) prompts that rapid growth in certain business niches keeps attracting new entrants.
Over this month, over 454,460 new businesses were formed. That number doesn't account for people who are self-employed and do gig work.
If you're ready to join those positive statistics, here's what you need to know about becoming a small business owner.

Last updated:
Mar 2023
Start your LLC the easy way
Forming your LLC is a checkbox that needs to be ticked. Easy, fast and worry-free. We reviewed the 13 most popular LLC formation services to figure out who truly understands what new founders need. Our recommendation:
LLC Formation: $39 + state fees
Pricing:
Turnaround Time:
Help & Support:
Customer Satisfaction:
Ease of use:
Best LLC Service 2022

Formed 1,000,000+ LLCs
$39 formation includes registered agent service
Fast formation & same day filing
Exceptional customer reviews

Last updated:
Mar 2023
How to become a small business owner
Whether you're a budding entrepreneur about to launch your first startup or an experienced small business owner looking to pursue a new venture, the world of entrepreneurship as you know it has drastically changed since the pandemic.
To become a successful business owner in 2021, follow this step-by-step guide.
Table of contents
---
Are you ready to dive into the world of entrepreneurship? Then let's get to work.
1. Find a growing business niche
Did you know that
35% of startups
fail because they address a non-existing market?
Often, you'll see small business owners cast a too broad net and try to appeal to just about anyone. But being a generalist rarely pays off (unless you can afford to scale fast).
That's why it's far better to start in an untapped niche.
In a nutshell, a business niche is a specialized area within a broader market that you can like a champ.
Usually, a profitable business niche has:
Low competition and subsequently underserviced customers
Number of unmet customer needs
Frustrating, outdated, ineffective experiences
You can also enter the market effectively and maximize your resources by focusing on a specific niche.
How niche is too niche?
A niche market doesn't have to be too narrow and too specific. Remember, the market should still be big enough to sustain growth. There should be an immediate customer base and continuous demand.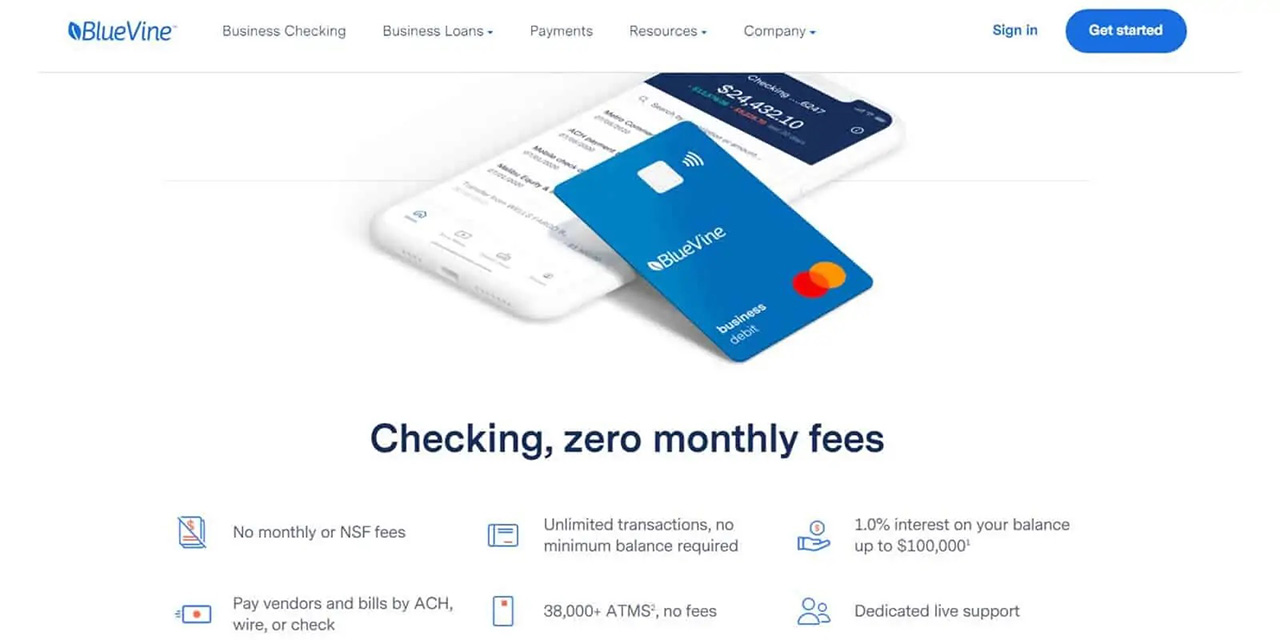 For example, BlueVine found an opportunity to help small business owners streamline their cash flow. Their niche service helps free up the cash trapped in invoices by giving an advance on the amount due.
How to do market viability research
How do you determine if there's a market for your product or service? Run a market viability study — a deep dive into the market size, trends, customer preferences, and competition.
The purpose of a market viability analysis is to help you define success and assess the sustainability of your business model.
To evaluate market viability, you need to consider conducting the following steps:
1. Determine your total addressable market
Total addressable market (TAM) refers to a product's or service's total demand. It's the maximum revenue a business can generate from selling its product or service in a given market.
Knowing this number will help you decide if your niche market is large enough to expand and scale.
To arrive at a ballpark number, use data from public sources and market consulting firms (e.g., Forrester, Gartner, Allied Research, etc.) to determine how big your industry's different subsections are.
This approach is far from comprehensive but will help you understand the overall market growth trends and revenue projections.
2. Analyze macro market trends
Focusing on a niche doesn't imply you should ignore the big picture. It's essential to remain aware of macro trends to predict where the market is headed, no matter how niche it is.
A macro trend is a long-term directional shift that impacts a large chunk of the population, often of a global magnitude. Think of the worldwide pandemic or the ongoing transition to electric vehicles.
To understand the macro-trends in your market, you can try doing a PESTEL Analysis (an acronym for political, economic, social, technological, environmental, and legal). PESTEL is a strategic business planning framework that helps you identify, evaluate, and monitor macro-environmental factors.
3. Evaluate niche market trends
The trajectory of a niche market matters more than its current state. Where is it heading? What's its outlook? As a small business owner, it's critical to understand the longevity of your business venture.
Does your niche market fall under a fad, trend, stable, or growing sector?
Successful entrepreneurs can seize the opportunity to cash in on a sudden demand without wasting any potential inventory because they know if they're serving a fad market.
4. Identify the competition
What does the competitive landscape look like for your product or service?
Are there any major players?
What are their strengths and weaknesses?
A competitive analysis is both an offensive and defensive strategic framework to determine business opportunities and looming threats. Knowing how your competitors operate and market their business will help you develop your unique selling proposition — giving you more reasons to stand out.
5. Create ideal buyer personas
A buyer persona is a fictional representation of your target customer. This ideal buyer is someone who has is the most likely and willing to buy your product or service.
A good buyer persona is built on customer interviews, focus group discussions, and secondary market research data. Include demographics data such as age, gender, occupation, education, income, etc. Also include psychographic traits such as beliefs, values, interests, desires, etc.
Remember: a buyer persona is an evolving document that you keep refining throughout your operations.
6. Figure out the gaps in the market
Identifying how your product or solution fills a need in the market is critical to determining your niche.
This so-called market gap is your untapped opportunity.
A gap in the market is an area that existing businesses aren't serving yet.
By pursuing a market gap, you can avoid diving into an oversaturated market jam-packed with more established businesses.
Think of this the following way: if your small town already has several big car rentals, you might be better off with starting an e-bike rental business and market it as a greener alternative to getting behind the wheel.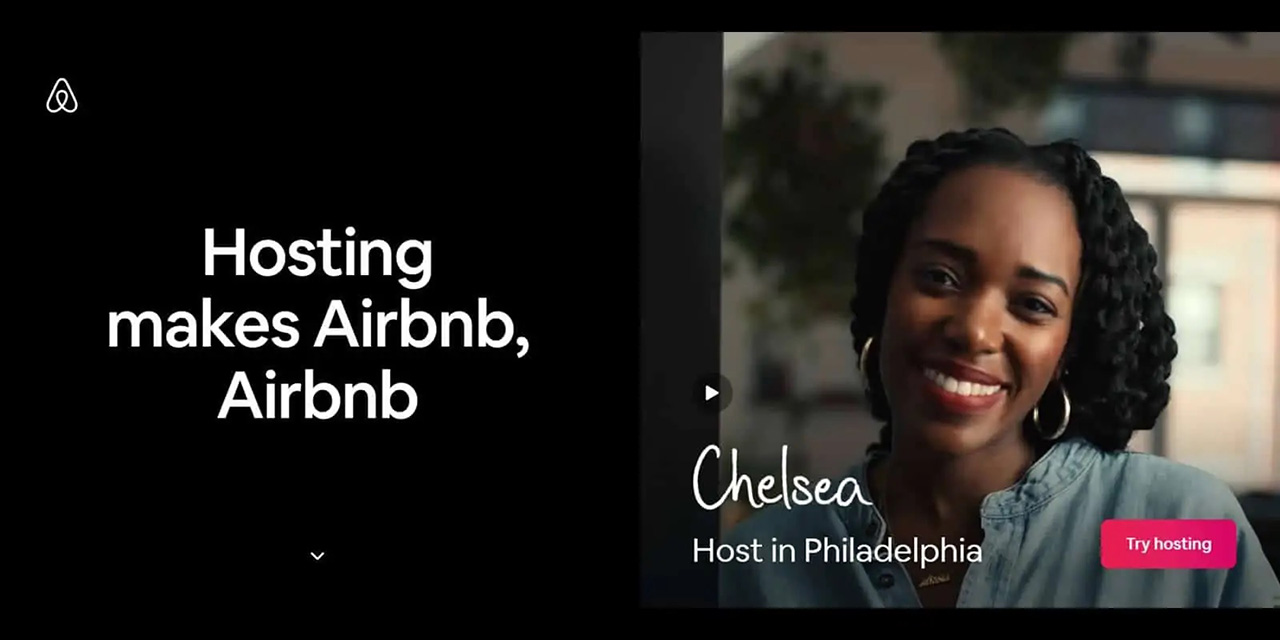 Take a page from Airbnb. The startup bridged a market disconnect between hotel stays and short-term rentals, conveniently filling in the gap in the accommodation rentals market.
2. Test the viability of your product or service idea
Testing the feasibility of your business idea is a crucial step in launching a successful small business.
If you blindly presume that your product or service will be a big hit because there's a market for such solutions, you're risking it all — time, money, effort, and other resources.
A test of your business idea is the only way to find out who might find it useful. You'll just waste your business plan if you skip this step. Your marketing efforts won't be relevant since you're targeting the wrong audience. It's a domino effect from there.
There are many ways to test the waters before fully diving in.
Here are some creative tests to help you validate your business idea.
Create a minimum viable product (MVP)
Popularized by the lean startup business model, an MVP is the most basic representation of your product or service — prototype, interactive wireframe, one-off event, promo brochure, etc.
An MVP is a reliable way to gauge the responses from prospective buyers.
Then use their feedback to refine and reiterate your idea.
Start a crowdfunding campaign
Aside from addressing your financing woes, crowdfunding can also be advantageous when testing the viability of your business idea.
Why?
The best possible source to fund your product or service is already there: real, paying customers.
Rickshaw Bagworks, for instance, launched a Kickstarter project to test the market for a new custom fabric for its tote bags, backpacks, and messenger bags (and raise some funds for manufacturing, of course).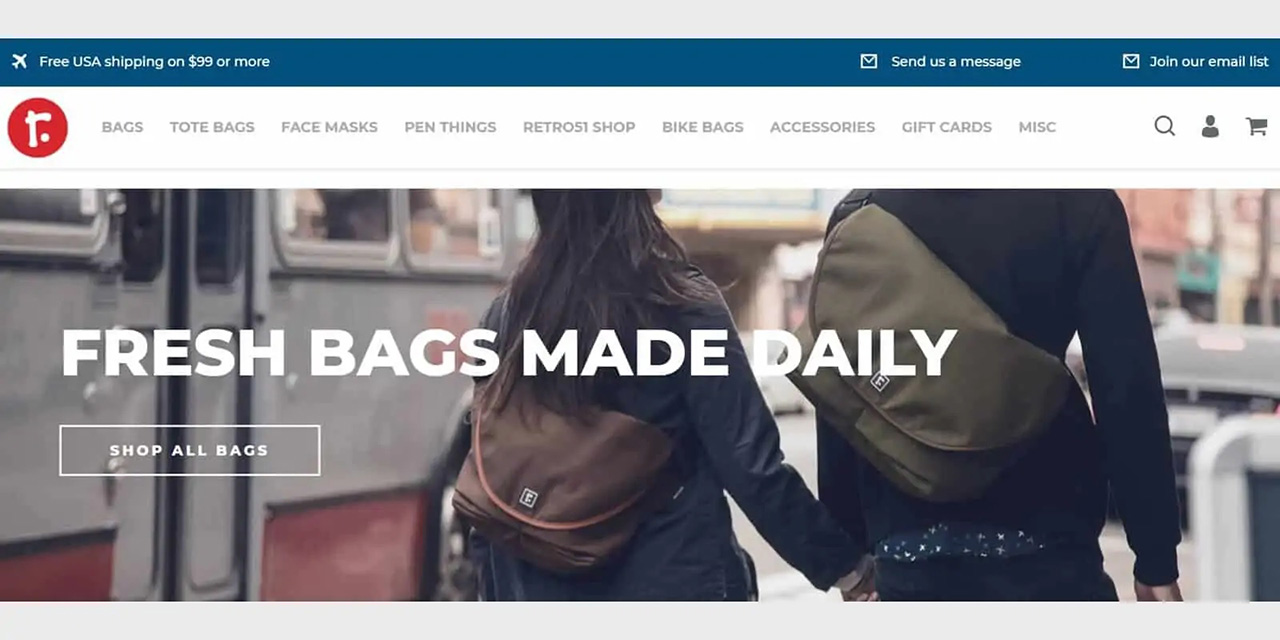 Set up a store to accept pre-orders
Pre-orders are another staunch way to validate the demand for new products and reduce inventory costs and risks.
Host an online survey
Before introducing your idea to the market, send a product or service concept testing survey to the masses. Ask precise questions around usability, pricing, features, etc.
Promise a discount to all the participants to get more replies.
3. Register your business
You can brand yourself an entrepreneur at any time. But to get legally recognized as such, you'll need to form a legal business entity with the state authorities.
Legally speaking, there are seven types of business structures:
Sole proprietorship
Limited liability company (LLC)
General partnership (GP)
Limited partnership (LP)
Corporation (C Corp, B Corp, and S Corps)
Nonprofit organization
Cooperative (co-op)
Each type of business has different implications and importance for liability, taxation, and succession.
In the beginning, most entrepreneurs opt for sole proprietorship as it's the easiest way to run a one-owner company as it's a basic form of self-employment.
However, sole proprietorships come with one huge drawback: they offer no limited liability protection. Corporations, limited liability companies (LLCs), and limited partnerships (LPs), on the contrary, provide such.
Also, both sole proprietorship and general partnership names have no statutory name protection. If name protection is important to you, incorporating your business is the most recommended route.
An LLC is a popular business entity to incorporate your small business because it lets you take advantage of the benefits of both a corporation and a partnership.
By
forming an LLC
, small business owners can protect their personal assets from losses, company debts, and court rulings against their company.
LLCs may also provide some tax benefits compared to traditional corporations. While LLCs and S corporations are often discussed side-by-side, they refer to distinct aspects of a business.
Unlike LLC, an S corporation isn't a business entity. It's a type of tax classification.
4. Develop a go-to-market strategy
Unless you're planning to seek funding or attract lenders for your small business, you can forgo a classic business plan in favor of a go-to-market (GTM) strategy.
A GTM strategy is a step-by-step roadmap detailing how you'll enter the target market and ensure product or service success.
Generally, a great GTM strategy acknowledges the following critical parts:
Product-market fit. What problem does your product or service solve?
Ideal buyer. Who is your target audience? Who will benefit from your offering? How much are they willing to pay?
Competition and demand. Are there current businesses that offer a similar product you're planning to launch? Are there people who have the willingness and capacity to buy? Is the market oversaturated?
Distribution. What channels will you use to sell your product or service? Through an app, website, physical store, or a reseller?
5. Create a pricing strategy
Successful entrepreneurs make sure to give a lot of thought to the right pricing model as well.
Setting your prices too high could avert potential customers. A low-profit margin can leave you short of cash.
To devise the optimal pricing strategy, you need to consider the following.
Average industry profit margins
Profit margins vary disproportionately by industry. Conduct research on the current average industry profit margins for your specific product or service.
Brand positioning
How do you want to be perceived by your target market?
Are you luxury or an affordable brand?
Luxury products, for example, are priced high because the price can indicate prestige and level of quality. But moving such goods is harder for a new brand.
Price sensitivity among target audiences
Each type of buyer persona will have different price sensitivity levels. Someone can afford a $100 face cream, while others might call that excessive.
Customer price sensitivity levels also fluctuate based on the competition, knowledge, and affinity towards your brand.
Loyal buyers are ready to pay more. First-timers are more reluctant.
Competitor prices
Price competitiveness is an all-important factor when pricing your product or service. You want to be either a price leader or at least at par with the current competition. This way, the price won't be a deal-breaker for your potential customers.
6. Start marketing your business
Marketing helps generate visibility and demand for a product or service. If people don't know what you have, you won't make a sale. Without a proper marketing strategy, you'll struggle to acquire new customers and foster repeat purchases.
However, like any other small business owner, budget is a constraint.
Don't worry! Marketing doesn't have to be money-busting.
Double-down on social media
Social media users have risen to 4.33 billion around the world as of 2021. That's a lot of potential customers.
Experiment with social media contests, small-scale ad campaigns, and creative influencer partnerships to build your fan base.
Leverage your local community
Look for annual events in your town that will let you network with local customers and potential business partners. Think fairs, city-sponsored trade shows, charity events, etc.
Also, don't be shy to ask for direct referrals from your family and friends or former colleagues on LinkedIn.
Send product samples to micro-influencers
Unlike mega-influencers (with 1+ million followers), micro-influencers (under 10K) are less likely to ask for monetary compensation.
Create a PR list for outreach and offer to share free product samples in exchange for an honest review or a feature on their Stories.
Grow your email subscribers
Start collecting emails as soon as you can — via your website, in-store, through partners, etc.
The email marketing ROI of $38 for $1 spent is just too good to pass on.
Conclusions
Launching your own business requires prep. You don't venture out without a plan if you want to succeed. Don't skim on the research and learn as much as you can about different business niches, market prospects, and target preferences.
Once you have a good overall sense of direction, get down to the operational nitty-gritty — get incorporated, bring your minimal viable product to the masses, set up a physical or virtual storefront, and market like there's no tomorrow.
You've got this!
Commonly asked questions (FAQ)
The following are some of the most frequently asked questions about being a small business owner.

Last updated:
Mar 2023
Start your LLC the easy way
Forming your LLC is a checkbox that needs to be ticked. Easy, fast and worry-free. We reviewed the 13 most popular LLC formation services to figure out who truly understands what new founders need. Our recommendation:
LLC Formation: $39 + state fees
Pricing:
Turnaround Time:
Help & Support:
Customer Satisfaction:
Ease of use:
Best LLC Service 2022

Formed 1,000,000+ LLCs
$39 formation includes registered agent service
Fast formation & same day filing
Exceptional customer reviews

Last updated:
Mar 2023