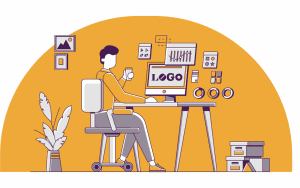 McDonald's golden arches, Nike's swoosh, and Starbucks' siren are just some of the world's most iconic company logos, costing millions of dollars in brand equity.
Why are business logos so important for businesses of all shapes and sizes?
Because a perfect logo is instrumental to expanding your brand identity.
Studies revealed that it's the #1 most recognizable brand identifier that affects company perception, reputation, consumer attitudes, and purchase intent.
But, creating a business logo that's both distinct and memorable could be a taxing endeavor, especially if designing is not your strongest suit.
Yet, having no design experience is no longer a valid excuse for a mediocre logo.
Today, the best business logo makers have readily made templates, allowing you to make your professional logo in minutes. Simply choose the perfect logo maker and download the high-quality custom logo design you created in PNG, SVG, EPS, or vector files.
Follow this guide to discover the top free and premium business logo generators.
Table of contents
---
From there, you can use it for your website, business cards, social media, marketing materials, or packaging — literally anywhere you want.
Want to know which business logo maker is right for you? Check out this curated list of free and paid logo makers.

Last updated:
Mar 2023
Start your LLC the easy way
Forming your LLC is a checkbox that needs to be ticked. Easy, fast and worry-free. We reviewed the 13 most popular LLC formation services to figure out who truly understands what new founders need. Our recommendation:
LLC Formation: $39 + state fees
Pricing:
Turnaround Time:
Help & Support:
Customer Satisfaction:
Ease of use:
Best LLC Service 2022

Formed 1,000,000+ LLCs
$39 formation includes registered agent service
Fast formation & same day filing
Exceptional customer reviews

Last updated:
Mar 2023
How do I find a good logo design?
A great logo conveys a company's personality, brand identity, industry, vision, and mission.
The most recognizable logos share several traits such as:
Immediately convey what your company is all about: Your logo should encapsulate your company's mission and vision, whether it's about the products you sell or the services you offer.
Easily scalable in a variety of mediums, applications, and sizes: From billboards, magazines, brochures, business cards to your website and social media accounts, your logo should work well in both print and digital media. One should easily decipher it in both small and large sizes.
High recognition and memorability. Avoid too much detail, so your logo is easy for customers to recall. Simplicity is key. A Brand Logo Simplicity study shows that people consume more from a product that features a simple, flat logo compared to a product with a complex, non-flat logo.
Best free business logo makers
Ideally, you'd think of hiring professional logo designers to create a business logo for you. But, we understand that some of you have budget constraints, especially if you're a startup or a small business owner.
If that's the case, take advantage of the following free logo makers to produce a top-notch logo!
1. Canva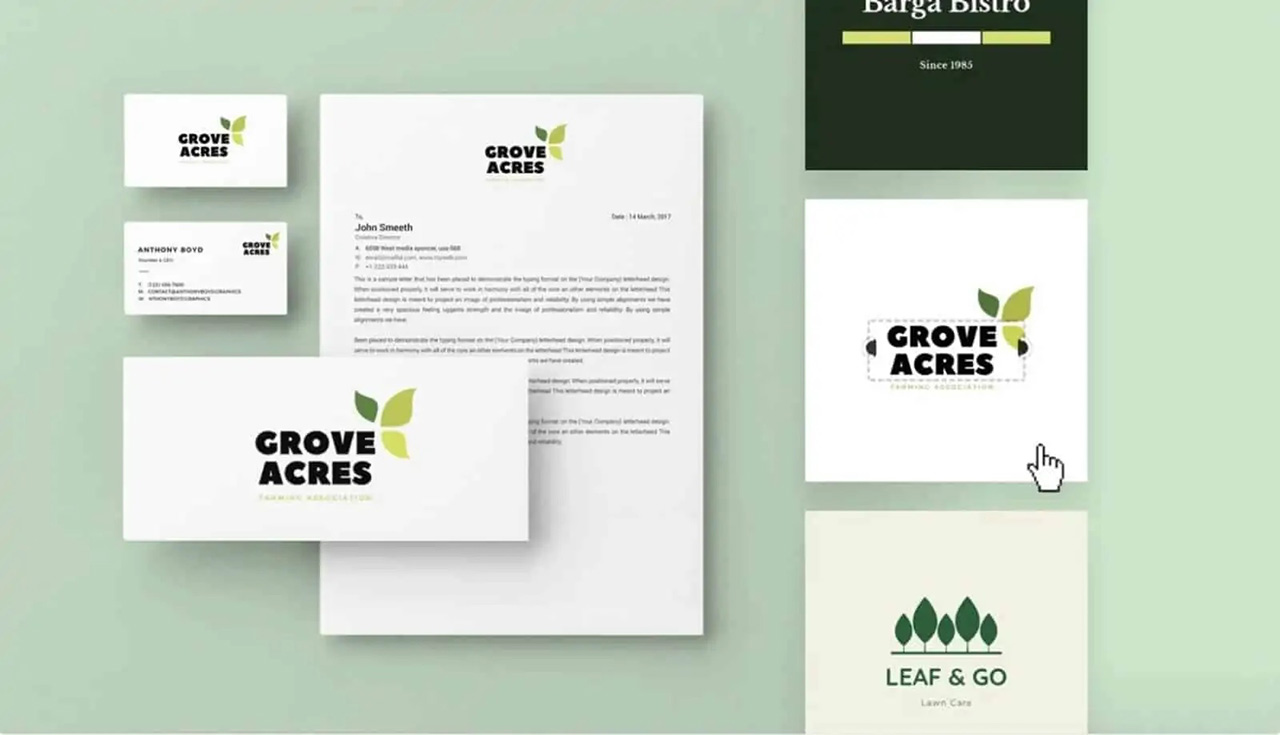 Canva is an all-in-one, cloud-based tool for all of your design needs. Aside from being a free logo maker, you can also use Canva to design business cards, social media posts, infographics, and other marketing materials with it.
The best feature of Canva is that it comes with thousands of attractive premade designs. Popular logo templates are available for various industries like fashion, gaming, real estate, and beauty, among others.
Pros
Beginner-friendly, point-and-click logo design experience
Over 1,700 free ready-to-use logo templates
Variety of free vectors, graphics, icons, and illustrations included
Cons
Doesn't support advanced image manipulations
The mobile app has fewer design and editing tools
2. Gimp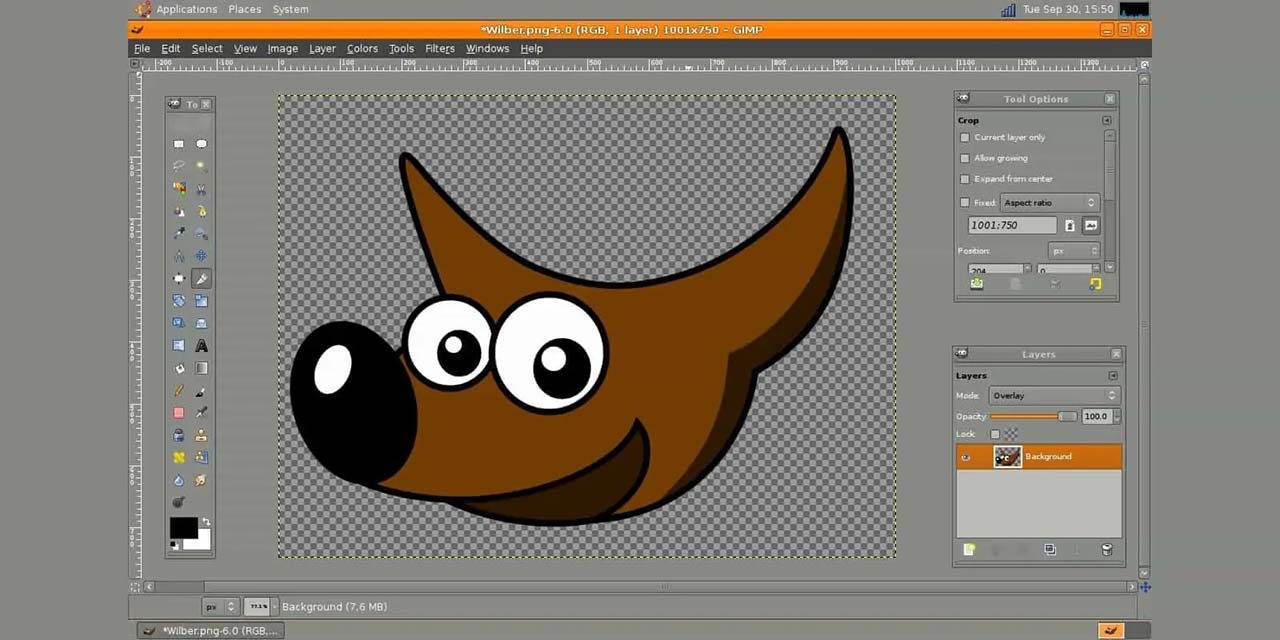 GNU Image Manipulation Program or simply GIMP is an open-source image editor and free logo design software.
Dubbed as a free alternative to Photoshop, GIMP features a familiar photo editor interface that allows you to draw beautiful, professional logo designs in vector.
Aside from logos, GIMP is also widely used by graphic designers for high-quality image manipulation like retouching, restoring, editing, and free-form drawing.
Pros
Highly versatile graphic design software
Desktop app for offline editing
Cons
No available logo templates
Limitations on the number of layers that you can use
3. Wix Logo Maker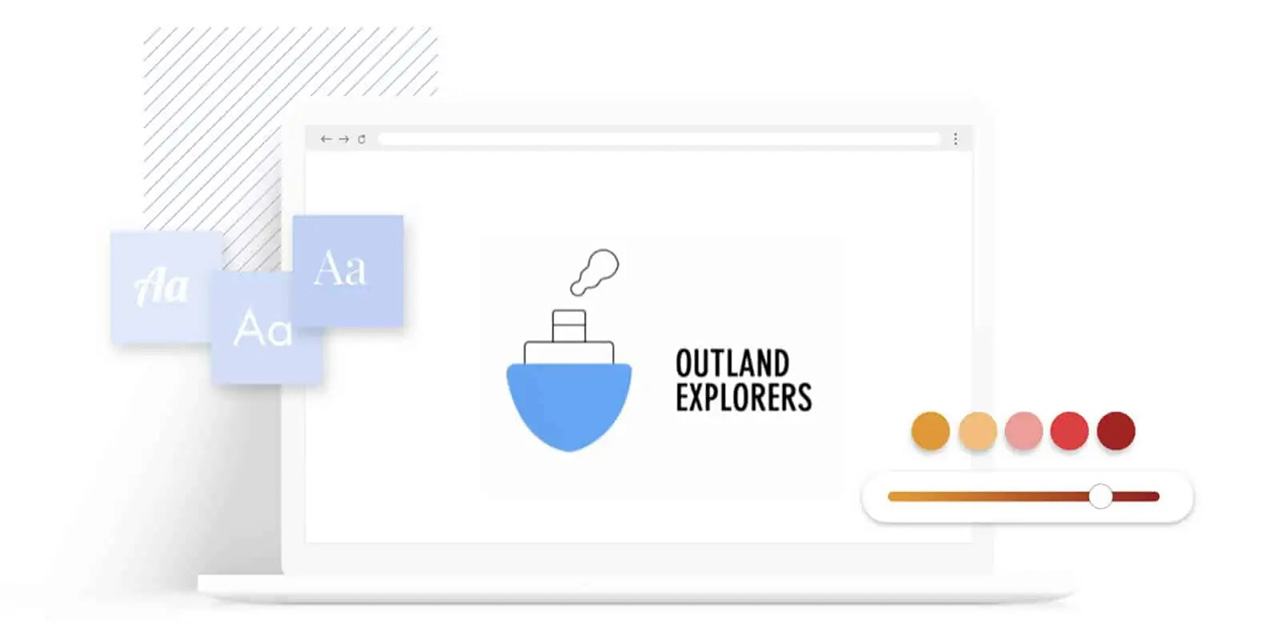 Wix Logo Maker is another favorite among small business owners since the tool provides a good mix between sophistication and user-friendliness. To create a custom logo, you first need to complete a quick quiz around your brand name, tagline, industry, and design style.
The app will auto-generate a selection of logo variations to further tweak up to your liking based on the intake. From free font styles to icons like animals and mascots, you can customize the logo to match your brand identity perfectly.
Pros
AI-powered online design tool
Beginner-friendly interfaces
Access to royalty-free images
Cons
A limited selection of fonts and logo shapes
Logo templates are more oriented towards wordmarks and lettermarks
4. Ucraft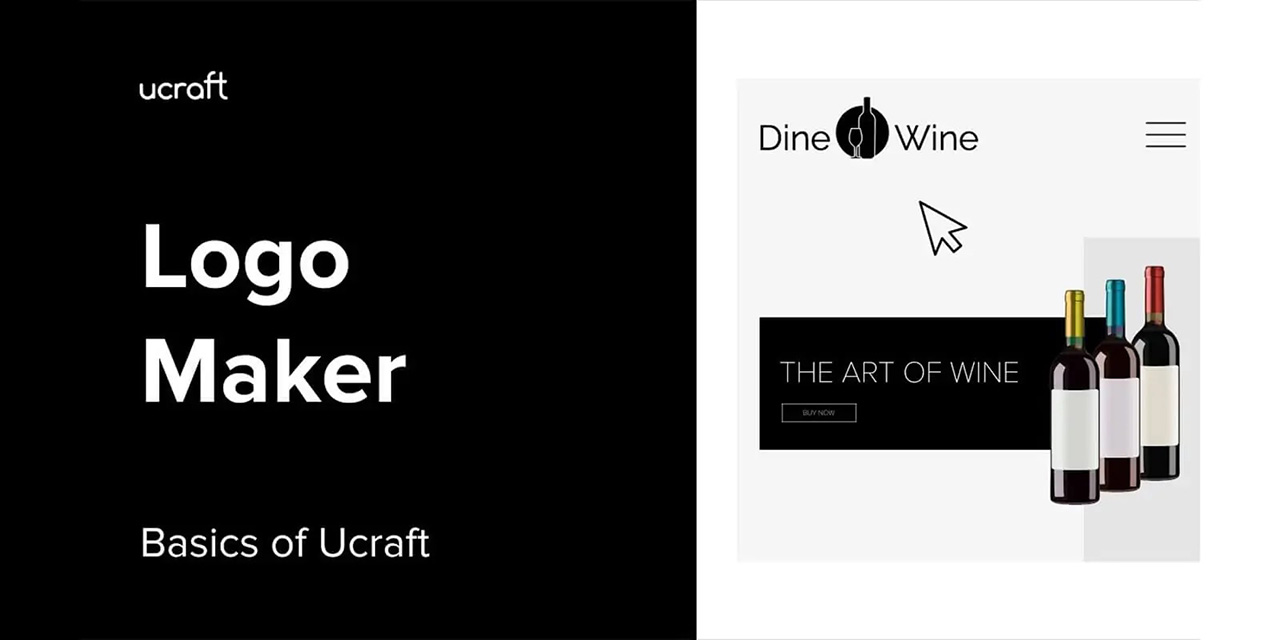 Ucraft's free online logo maker enables professional logo designers, freelancers, and beginners alike to design eye-catching and professional logos without downloading any software.
The app has a drag-and-drop interface with intuitive image editing tools. You get your logo in PNG format that works well for social media, websites, and all sorts of digital and print marketing materials.
Pros
Get a logo in PNG format with a transparent background for free
Affordable price for vector files (SVG, EPS) for $7
24/7 online chat support
Cons
Comes with a learning curve for beginners
Limited free features available
No alignment tool
5. Looka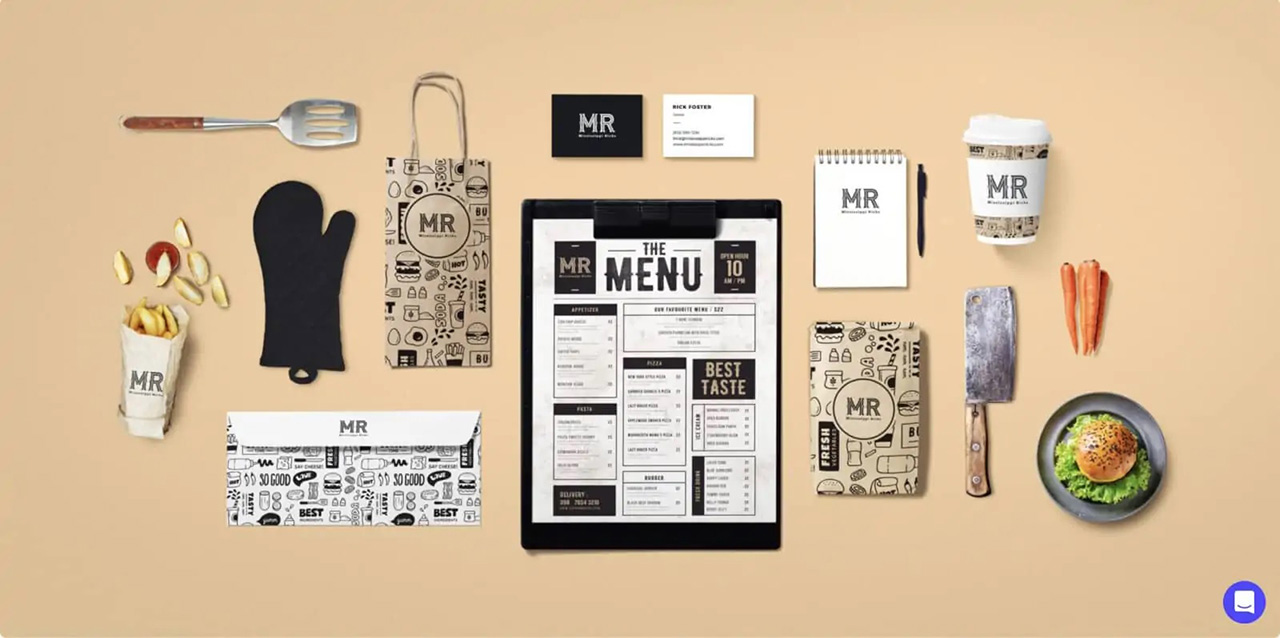 Looka is a leading free logo maker powered by AI. So you won't be doing the logo design job alone — an intelligent "prompter" will guide you!
You'll start by entering your company or brand name. Then, enter the industry you're in. It offers a variety of industry selections like real estate, photography, fashion, etc.
You can also choose from hand-curated symbols or icons like t-shirts, mugs, and bags. After that, you're free to tweak the logo template to put your unique spin.
Pros
300+ branded templates to customize
Huge selection of icons, symbols, and font styles
AI-generated prompts for beginners
Cons
Limited editing options
The SVG version of your logo is only available with an upgraded plan
6. Hipster Logo Generator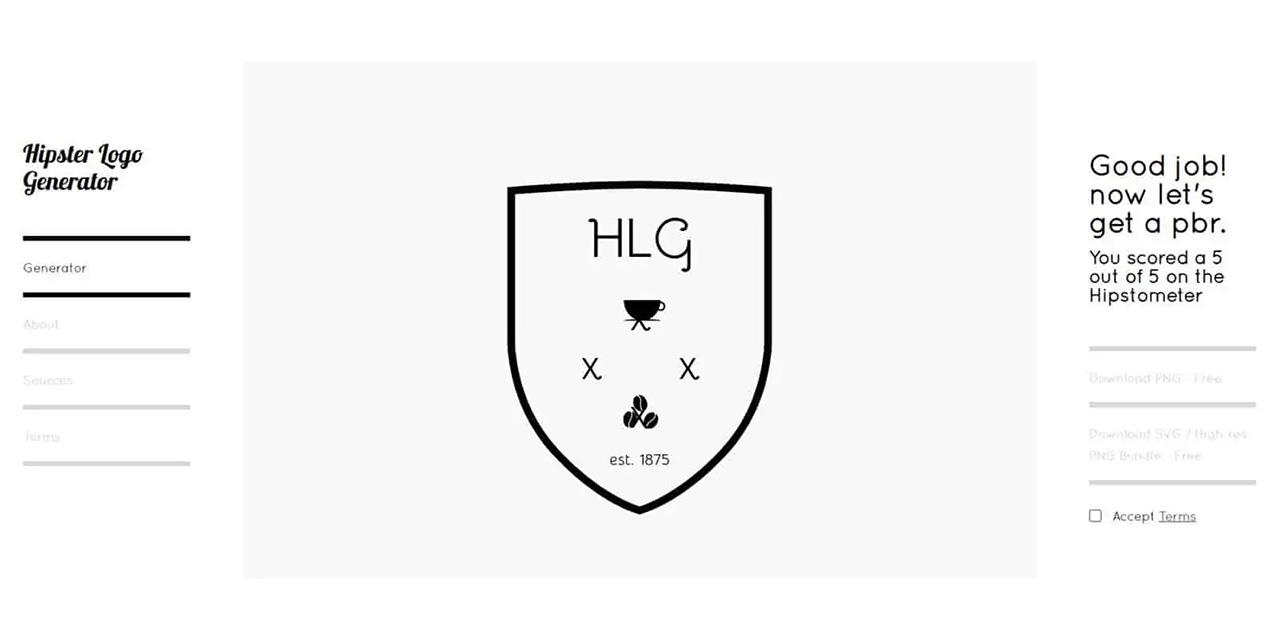 If your business has an inherent faddish appeal, Hipster Logo Generator is a perfect tool to create a logo in a matching style. As the name suggests, this free logo creator is ideal for those businesses with a hip, unique, and energetic brand vibe.
This tool has probably the most basic features among our list of free logo makers. But their straightforward and user-friendly interface is still something worth trying.
Pros
Free downloadable PNG file
Free downloadable SVG and high-res PNG bundle
Deadpan easy-to-use
Cons
Limited design tools and fonts
A minor variation of logo designs
No available templates
7. Hatchful by Shopify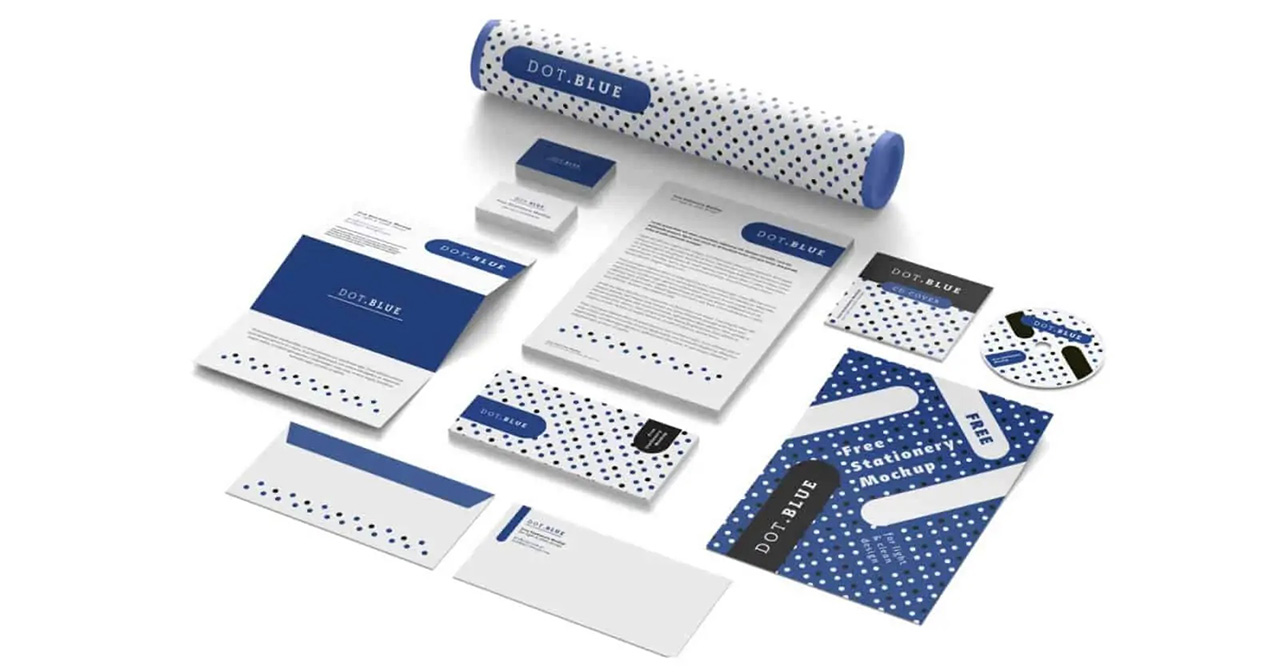 Built for small businesses, startups, business owners, and freelancers, Hatchful by Shopify requires no design experience. You can freely customize your business logo using hundreds of readily available templates, icons, and color combinations.
The best thing also is that you don't need to be a Shopify user to use it. The app is free for all.
It also comes with fully-loaded branding packages — you can download brand assets for any social media platform like Facebook, Twitter, Instagram, LinkedIn, Pinterest, and YouTube.
Pros
Hundreds of professional logo design templates
Free to use
Instant branding packages
Cons
Limited design and editing capabilities
PNG download only
Shapes and vectors are less customizable
Best premium business logo makers
Although you can make a professional business logo using one of the free logo tools above, the limited editing functionality and image format files can be a dealbreaker at times.
If you want a memorable company logo that could endure the test of time, invest in premium design software. Here's our top pick of premium logo makers with a wide range of features and extra functionalities depending on your budget.
8. Designhill Logo Maker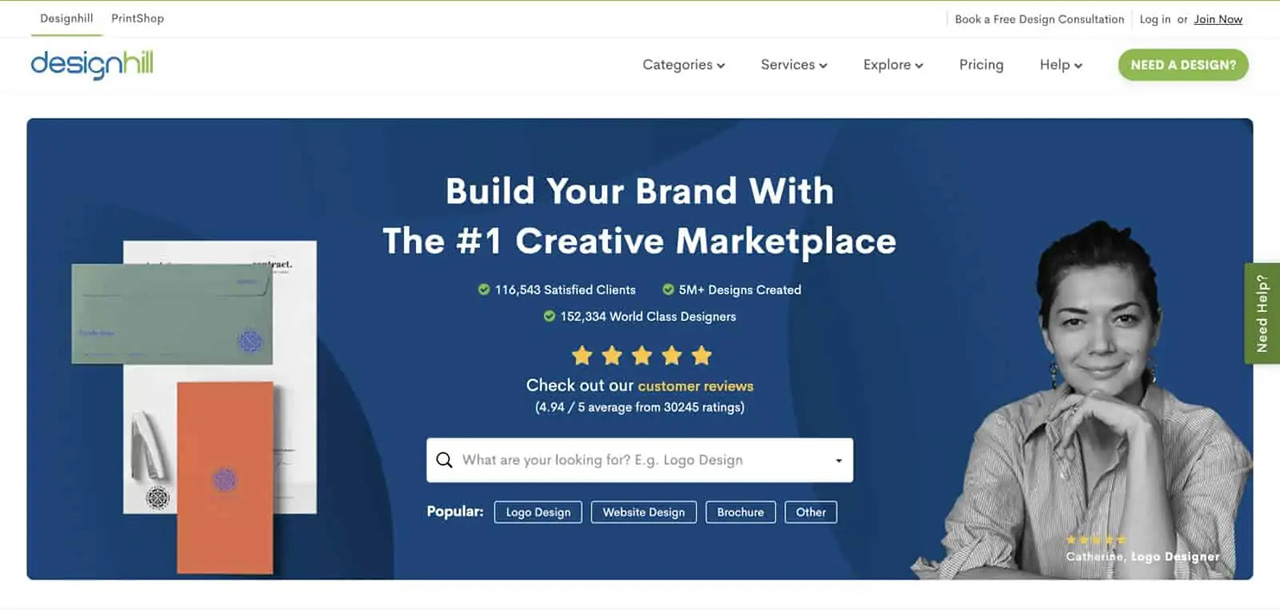 Designhill is the perfect logo maker for small business owners who need proactive guidance. This tool doesn't expect you to have graphic design-know how, yet it allows you to produce pro-grade imagery.
The software comes with some pre-built logo templates curated by the industry. You can pick one and then customize it further using a range of available tools.
The best part is that this logo generator doesn't charge you for designing. You only pay once you're ready to download your custom logo design. That means that you won't have to pay to try its features first.
Pros
Multiple design assets like shapes, colors, and fonts
Easy-to-tweak logo templates
AI-powered logo maker
Cons
The basic version only includes a standard resolution logo file
Higher-resolution logos are more expensive
9. Adobe Photoshop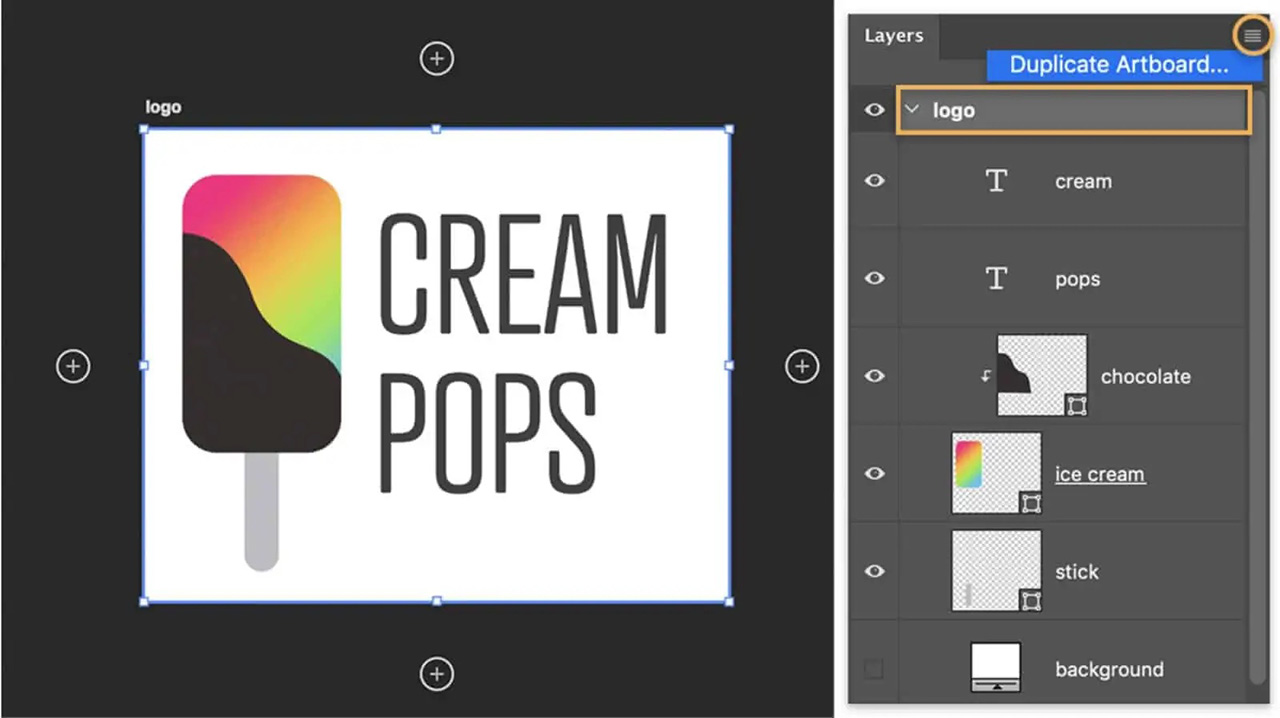 Adobe Photoshop is hands-down the best logo design software for graphic designers. Its multifaceted features can help anyone draw visually striking and unique logos. But to get the max out of Adobe, you need to learn the ropes.
Soundly, there's plenty of free and paid courses showing how to use basic and advanced Photoshop features. So with some learning, you too can design a logo.
Plus, learn how to craft illustrations, 3D merchandise visualizations, and other graphical assets for your website.
Pros
Powerful and comprehensive design software
Provides mobile-friendly images and logos
Readily available integrated stock library
Cons
A little more expensive than the other premium logo design software
The interface can be overwhelming for novice users
Comes with a steep learning curve
10. BrandCrowd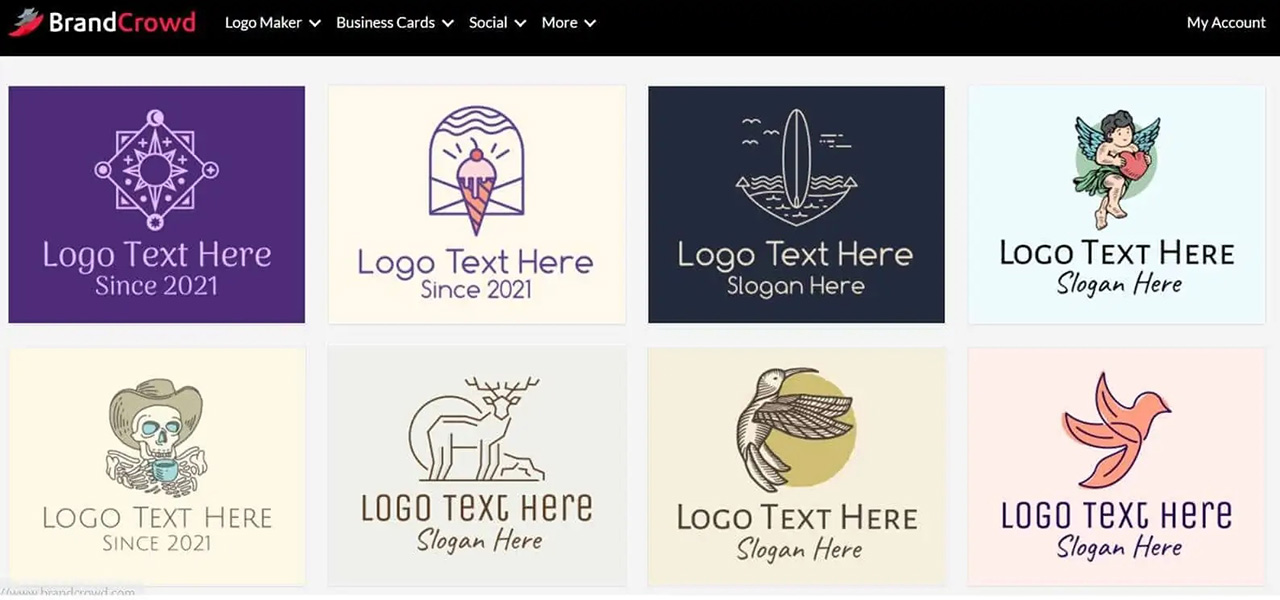 BrandCrowd is another premium logo generator for business owners who want to get a bunch of logo variations in several clicks.
With BrandCrowd, you can access over 1,000 premade logo templates in different styles, such as a wordmark or icon. You can also buy a ready-to-use logo for $45 and get high-quality files with multiple logo variations.
Pros
Large selection of available templates
Intuitive and easy to learn interface
AI-powered design guidance
Cons
Can be expensive, and users have to pay for exclusive rights
Doesn't offer a free trial
Unable to change the shape of logos
11. 99designs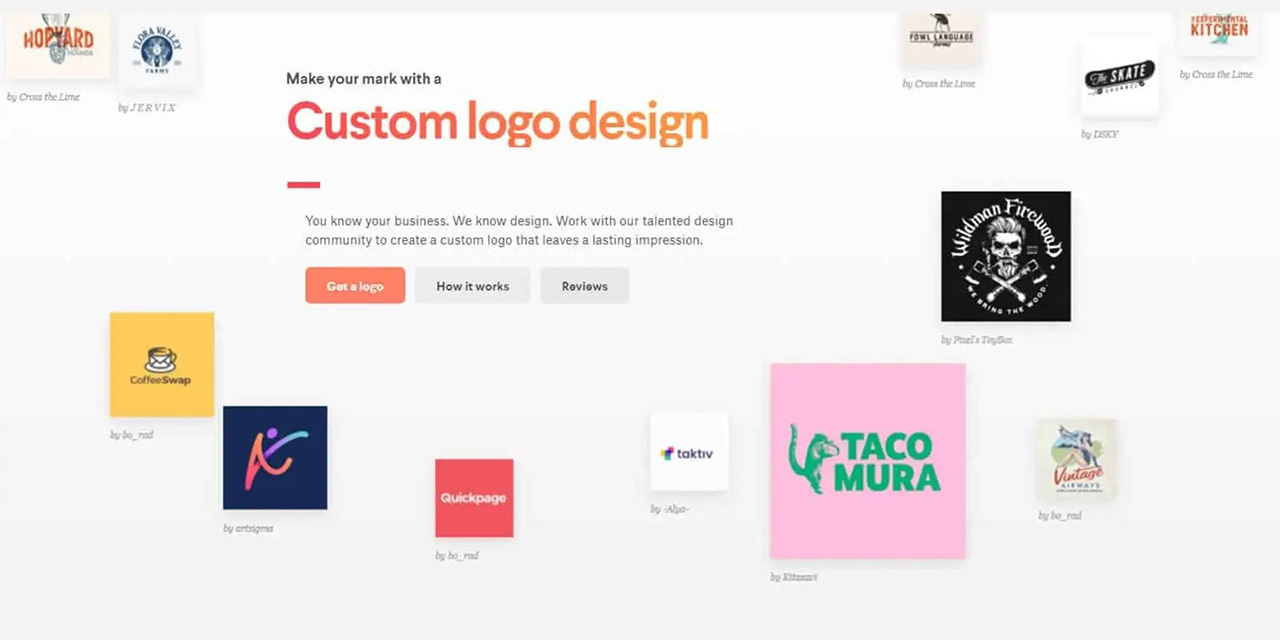 A unique selling point of 99designs is the ability to commission a logo from a professional logo designer (or several at once).
Essentially, this platform lets you host a logo-making contest, where the design talent pitches you different concepts. Once you pick the winning logo, 99designs will transfer the copyright and send you the necessary image files.
Also, you can go a more standard route and send a creative brief to one of the platform's designers whose work you fancy. Then negotiate a direct commission for them and pay the quoted price.
Pros
A large volume of different designs at a fixed price
100% money-back guarantee
Great selection of design talent
Cons
A little more expensive
Entry-level plans don't assure access to the best designers
Hiring a designer to create a professional logo
Working with a branding specialist or professional logo designer brings you the most benefits:
One of a kind logo design, matching your brand ethos
Multiple iterations and complex graphic elements
Logos delivered in the formats you need
Extra consultations on your brand positioning
So once you get that extra budget, consider upgrading your logo with a more professional one.
How much should I pay for a business logo?
Typically, graphic designers and freelancers charge around $35 to $150 per hour, depending on the designer's level of experience.
However, most specialists prefer to quote a fixed price rate that also includes other design deliverables. A recent survey of small business owners found that most (30%) end up paying under $500-$1,000 for a logo, while another 23% spend between $1K-$2.5K.
On the higher end of the pricing spectrum are marketing firms or design agencies charging between $4,000 to $15,000 for a logo alone.
Do logo designers get royalties?
If the graphic designer is either employed or contracted by a company. In that case, they are usually not entitled to any kind of royalties or residual compensation unless explicitly stated in the contract.
Remember, logos are not the same as artwork. Hence most designers fully transfer all ownership rights to the client.
Commonly asked questions (FAQ)
Here are some of the most frequently asked questions about business logos.

Last updated:
Mar 2023
Start your LLC the easy way
Forming your LLC is a checkbox that needs to be ticked. Easy, fast and worry-free. We reviewed the 13 most popular LLC formation services to figure out who truly understands what new founders need. Our recommendation:
LLC Formation: $39 + state fees
Pricing:
Turnaround Time:
Help & Support:
Customer Satisfaction:
Ease of use:
Best LLC Service 2022

Formed 1,000,000+ LLCs
$39 formation includes registered agent service
Fast formation & same day filing
Exceptional customer reviews

Last updated:
Mar 2023