The 7 Best Registered Agent Services of 2023
Would you rather skip the details and see our top recommendation right away? For most small business owners, the best registered agent service is undoubtedly Northwest Registered Agent.
Businesses must appoint a registered agent. It is a legal obligation with no alternative. Thankfully, it's one that business owners can handle quickly and easily.
For the majority of small business owners, hiring a high-quality registered agent service is the ideal way to go. The best services handle this duty with ease, allowing you to focus on other business needs.
The only thing for you to figure out is which registered agent service to use. There are a lot of available options on the market today, and they all use lofty claims to attract customers. Identifying the best service can be difficult, and that's why we're here to help.
We did the heavy lifting for you and took a detailed look into more than a dozen registered agent services. This article fills you in on what we found so you can select the service that's best for your needs.
Are you launching an LLC or corporation? Head over to our articles covering the Best LLC Service and Best Incorporation Service for more help.
The Best Registered Agent Service Picks for 2023
Northwest Registered Agent – Best Registered Agent Service
Northwest Registered Agent's motto of "We're just not annoying" sums up their service well. By putting the spotlight on speed, accuracy, and customer privacy, they've jumped to the top of our list. Northwest avoids harassing customers with needless upselling or partner offers. They are a great option for anyone from first-time founders to experienced entrepreneurs. Northwest Registered Agent is our #1 choice for registered agent services.
ZenBusiness – Top alternative
With competitive pricing, high-quality customer service, an intuitive online platform, and an impressive 4.8 out of 5 customer rating, ZenBusiness is an excellent choice for registered agent services. We also like that they're a public benefit corporation that puts quality service ahead of dishonest practices.
Harbor Compliance – Excellent price for extended commitment
Harbor Compliance sticks to what they're good at, helping companies stay in compliance. By specializing in this service, they perform well across a variety of metrics. You can get the best value from Harbor Compliance by purchasing multiple years of registered agent service at once. The available discounted price hits a point that most competitors won't match.
1. Northwest Registered Agent – Best Registered Agent Service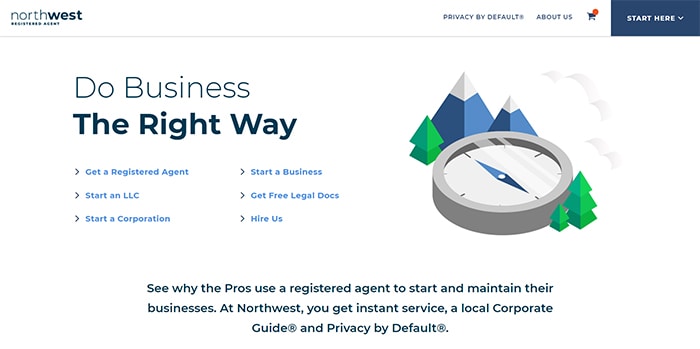 Cost: $125 per year
Advantages:
Easy self-service
Offers mail forwarding
Trusted brand with significant experience
Outstanding reliability and customer support
Completes registered agent paperwork and fees
Offers refunds within 90 days
Transparent terms of use
Disadvantages:
Lower-priced alternatives exist
Northwest Registered Agent ticks off all the right boxes. They are reliable, offer all the services you need, provide quality customer support, and keep things simple and easy to understand.
Unlike other registered agent service providers, Northwest Registered Agent has an extensive network of local offices. This allows the company to receive and scan legal mail for its customers with in-house staff. Most other providers outsource these essential duties to third-party services. They merely act as a go-between for their customers and the outside providers.
By taking care of these functions within the company, Northwest protects customer privacy. It also allows them to maintain a consistent level of quality for all its customers. This is a rarity in the world of registered agent services and is one reason Northwest earned the top spot on our list.
But that's not all we like about Northwest Registered Agent. Another way they go above the rest is by including free mail forwarding service with every registered agent subscription. At no additional cost, they'll scan up to five non-legal documents per year. And if you need more, they handle it for a reasonable fee.
Once again, this is a complete standout in the registered agent service industry. Most other providers will not handle non-legal mail in any fashion. By offering a useful service that others avoid, Northwest ensures client satisfaction.
We also like to see companies that have significant experience as registered agents. Northwest Registered Agent started in 1998, giving them more than two decades under their belt. Best of all, they have a rock-solid reputation as a registered agent provider.
Every business needs to handle the registered agent role with care. It is a critical element to staying in compliance. A failure in a registered agent service can put a company into serious legal trouble. If you miss an important notice, your company could face disastrous consequences.
Northwest Registered Agent walks you through the startup process and compliance concerns. With a knowledgeable customer service staff that responds rapidly, Northwest customers get helpful answers right away.
The company employs more than 700 individuals, giving them a well-rounded in-house network of people to solve nearly any issue. They appoint "Corporate Guides" to each customer, serving as dedicated teammates to handle any issues that come up.
It's important to protect any investment. While it's always best to be satisfied with a purchase, sometimes refunds are a necessary part of life. Northwest Registered Agent separates themselves by standing behind their product with an impressive 90-day return policy. If you need to cancel, you can back out and receive a prorated refund of the charge.
If you already have a registered agent in place, then switching can be a hassle. You'll need to notify the state and update the appropriate documents. Northwest Registered Agent removes this headache. Not only do they handle all the paperwork on your behalf, they even pay for the filing fee.
It can be difficult to compare terms of service across companies. But this is another standout area for Northwest Registered Agent. Instead of hiding unfavorable terms in complicated legal terms, they use clear and simple language. It's another sign of Northwest's transparency. They put the customer experience and satisfaction above all else.
If you want to find out the full details about what the company offers, head over to our full review of Northwest Registered Agent.
They are currently offering an LLC formation package for just $39 plus state fees, and it includes a free registered agent service for the first year.
Northwest Registered Agent areas for improvement:
Unlike many alternatives, we failed to uncover any serious issues with Northwest. The only downside is that some competitors have a slightly lower price. Northwest Registered Agent charges $125 per year, and that is not the lowest price on the market.
But the price is still an excellent value. Northwest isn't overcharging. They provide an excellent service that they handle in-house and go far above the rest.
2. ZenBusiness – Top alternative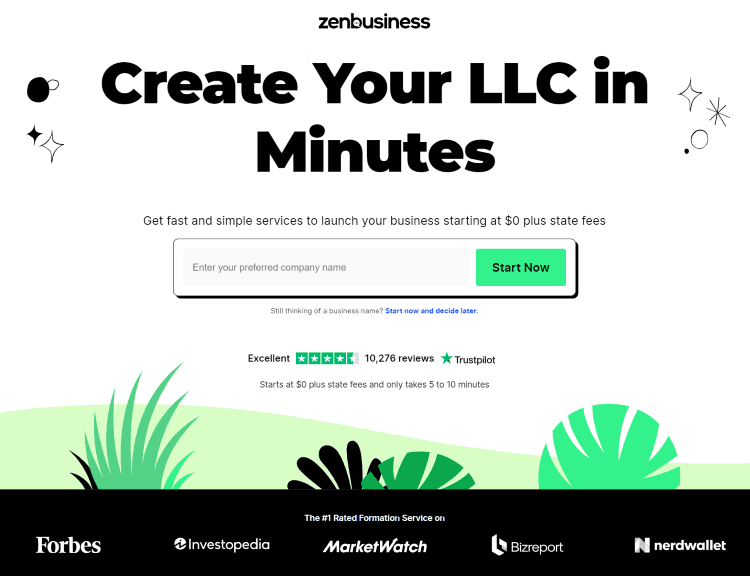 Cost: $199 per year
Advantages:
Easy-to-use website
Feature-packed dashboard with email notifications
Excellent customer reviews
Knowledgeable and rapid customer service
Can add on annual report filing
Disadvantages:
Premium pricing
No prorated refunds
Lacks mail forwarding
ZenBusiness focuses on helping first-time founders and others form new businesses. They handle annoying administrative tasks so their customers can quickly form companies and move on with their day.
Another quality we like about ZenBusiness is that they are a public benefit corporation. They emphasize having a positive impact on society, incorporating this goal into their legal obligations. One example of how this plays out is that ZenBusiness randomly selects customers to receive grants and loans each year.
Many people use ZenBusiness' registered agent services as an add-on benefit to their LLC formation packages. The RA service costs $199 per year to hire ZenBusiness for this role. If your business entity receives legal service of process, you will be electronically notified. Then you can log on to the intuitive online dashboard to see the contents of the scanned document.
Providing a knowledgeable customer service staff is vital for any registered agent service. ZenBusiness excels in this category, ensuring that its clients can quickly get the help they need.
As part of our review process, we routinely contact customer service staff to answer detailed questions. ZenBusiness got back to us in less than an hour, with a clear message answering all our questions. This rapid response was the fastest among all the companies we contacted. And we are very satisfied with the knowledge of the support staff.
We're not alone in this regard. Based on the more than 7,000 reviews on Trustpilot, the total customer service rating is a solid 4.8 out of 5, far above most. ZenBusiness maintains a high level of customer satisfaction, one of the key factors of quality services.
If you want to check out all the details of our findings, head over to the comprehensive ZenBusiness review.
ZenBusiness areas for improvement:
The cost of ZenBusiness' registered agent services has a premium price tag. It is about twice as much as many competitors.
3. Harbor Compliance – Best value for extended commitment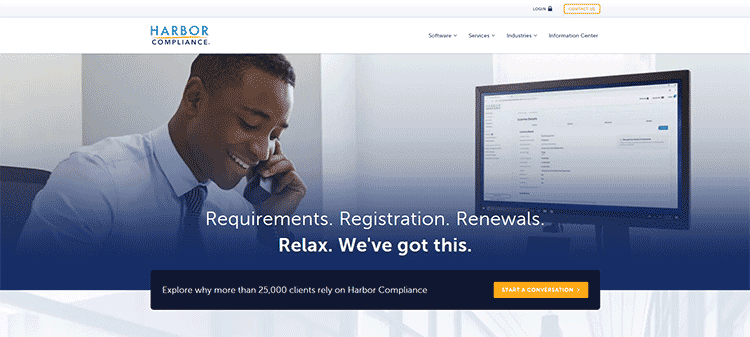 Cost: $89 to $99 per year
Advantages:
Excellent multi-year discounts
Annual report notifications
Online document access
Same-day scanning
Rapid customer help
Disadvantages:
No physical mail delivery
No refunds offered
Harbor Compliance has spent more than ten years focusing on corporate compliance solutions. The services focus on larger organizations with serious compliance needs. But they have no problems working with smaller organizations and nonprofit entities.
Hiring Harbor Compliance as a registered agent costs $99 per year in each state. But if you pay for more than one year upfront, you can get a sizable 5-10% discount. For example, by buying three years of registered agent services, the annual cost is just $89. This is the lowest price for a year of RA services out of every company we looked into.
If you have multiple business entities, Harbor Compliance will increase the discount. To get specifics about bulk pricing, you'll need to speak with Harbor Compliance. But this can be an attractive way to go for anyone that needs multiple registered agents.
Another quality that makes Harbor Compliance stand out is that they have local offices in all 50 states. The address of each office is listed on their website. Most competitors use third-party providers, but Harbor Compliance keeps everything in-house.
When it comes to legal matters, time is of the essence. Harbor Compliance scans legal mail on the same day its received, promptly notifying customers of the document. We contacted them to verify how customers can view these documents, and were happy to discover they are immediately available in their online portal. Customers have instant access to each legal notice. The only downside is that Harbor Compliance does not forward the physical notice.
Harbor Compliance also helps you stay on top of other business needs. Their registered agent service includes annual report reminders in the state(s) where your company functions.
We noticed that Harbor Compliance tends to rely more on word-of-mouth reputation. While they don't have as many online reviews as some competitors, the average rating on Google is a solid 4.5 out of 5. Most customers are satisfied with the overall performance and indicate a consistent level of quality.
Harbor Compliance areas for improvement:
While some registered agent service providers offer a prorated refund, Harbor Compliance does not.
We spoke with a representative who confirmed that customers should not expect a refund if they cancel before the end of the period. The only exception is when customers cancel the order right away, before Harbor Compliance is appointed as the registered agent with any Secretary of State office.
4. Rocket Lawyer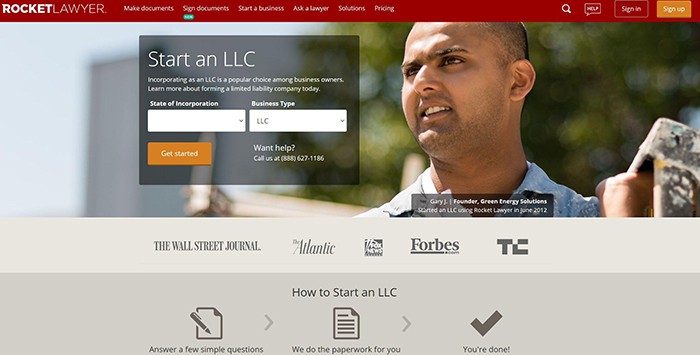 Cost: $111.99 per year for subscribers; $149 per year for non-subscribers
Advantages:
Positive customer ratings
Trustworthy company
Extra perks with paid subscription
Disadvantages:
The website has room for improvement
Lack of refunds
Not the most affordable choice
If you gather the big names in online legal services, Rocket Lawyer is bound to appear on the list. They're one of the prominent names in the business and have a reputation to back it up. You can hire Rocket Lawyer to be a registered agent as part of their subscription model or as a standalone service.
If you don't want to sign up to become a Rocket Lawyer member, the registered agent service costs $149.99 per year. If you join as a subscribed member, that price drops to $111.99 per year for the registered agent service. But this is on top of the $39.99 monthly subscription fee.
Rocket Lawyer is great for those who want to sign up for the paid membership and use other legal services, including online advice. Adding the registered agent service to this package is a good value and makes a lot of sense for some.
But if you don't plan on joining as a monthly subscriber, the registered agent service is overpriced. It's better to select one of the other standalone RA service providers.
Rocket Lawyer has earned a solid reputation. The company has more than 3,000 reviews on Trustpilot, landing at an overall rating of 4.6 out of 5. It keeps most customers very satisfied and can generate repeat business that the subscription model depends on. We did not see any negative feedback about the registered agent service.
When you hire Rocket Lawyer as a registered agent, they use third parties for some tasks. The company does not provide specific details about who they outsource to, unfortunately. But with so many positive ratings, it seems that they handle this with the required professionalism.
We also found the available contact methods leave something to be desired. There is no email listed on the website, and the form message you can send has a 250-character maximum. When selling intricate legal services, answering detailed questions helps customers understand what they're getting into. Rocket Lawyer could do better in this regard.
Rocket Lawyer areas for improvement:
We noticed a discrepancy between Rocket Lawyer's advertisements and terms of service. The website promotes a "100% satisfaction guarantee" and explains that dissatisfied customers can get a full refund when they cancel.
But the terms of service do not agree. Instead, it says, "Rocket Lawyer does not offer full or prorated refunds for canceled services."
It's great when companies stand behind their products with a solid guarantee. But the terms of service are what matters most, and they seem to backtrack on the supposed guarantee.
One other area for improvement is the Rocket Lawyer website. The details about their registered agent service are extremely limited. When combined with the lack of email support and limited messaging, it seems customers have to jump in head first without checking the water.
Even if you go to the specific page about the RA services, Rocket Lawyer fails to provide anything about the pricing of the service. If you spend more time bouncing around to other pages, you might find it. Otherwise, you'll have to reach out to the company. We like to see providers be open and clear about the pricing of their services from the get-go.
5. BizFilings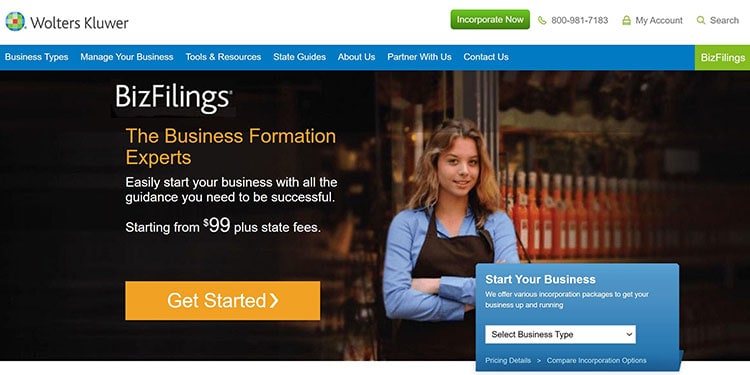 Cost: $199 per year
Advantages:
Easy self-service process
No-cost online compliance resource
Rapid customer service
Service of process notifications within one day
Includes physical mail forwarding for vital documents
Prorated refunds for cancellations at any time
Disadvantages:
High price
No mail forwarding for non-legal documents
BizFilings focuses on business formation and corporate compliance for small businesses. It is a Wisconsin-based entity owned by Wolters Kluwer.
BizFilings' registered agent service handles everything with a dedicated in-house staff. Many other RA providers use a third-party partner instead, giving BizFilings a leg up. BizFilings charges $199 per year for the registered agent service, which is on the more expensive side of RA providers.
One added benefit is free access to BizComply, a business compliance online tool. They usually charge $75 per year for this product. It's full of useful information that's useful to anyone with corporate compliance needs.
BizComply helps business owners stay on top of compliance issues in the state(s) where the business is founded and qualified to operate. It gathers the information in an easy-to-understand online portal. And the website offers an array of useful state forms.
As part of our research, we reached out to BizFilings with a handful of questions. A professional customer service representative responded within a few hours. The help was quick and included detailed answers to every one of our questions.
Many of the RA services we looked into only operate electronically. They provide online scanned documents but will not forward physical documents. BizFilings uses a similar online process to get scanned documents to you right away. But they will also physically mail any necessary original documents and checks, at no extra cost.
We contacted BizFilings to discuss their refund policy and discovered they put the customers first. You may cancel their registered agent service whenever you need to, as long as you make the necessary changes with the state registration or the company has been dissolved. If you cancel, BizFilings can issue a prorated refund of the fees you paid for but did not use.
BizFilings also makes it easy to switch over to their services as registered agents by handling the paperwork. They'll even pay for the fee assessed by the state to update the compliance record.
BizFilings areas for improvement:
We like when companies handle all operations with an in-house team. But BizFilings' registered agent service is significantly more expensive than other high-quality competitors. While BizFiling includes many added benefits, other RA providers have many of the same features at a lower price.
One other way we'd like to see BizFilings improve is by adding a standard mail forwarding service. It's nice to use one address for most business functions or deal with other mail sent to this publicly-available address. BizFilings makes this challenging to do.
6. BetterLegal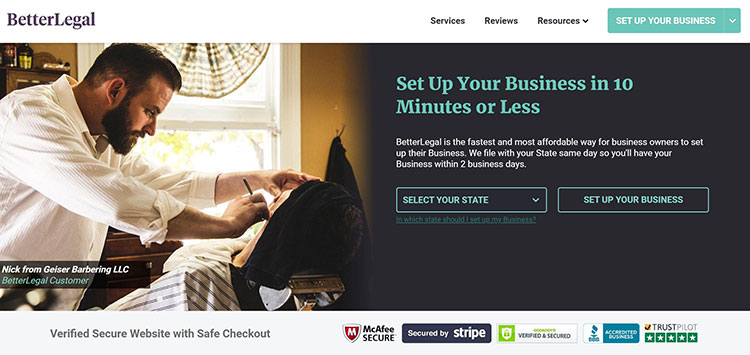 Cost: $90 per year
Advantages:
Competitive price
Excellent customer ratings
Disadvantages:
Doesn't provide a business mail address
The company's website lacks information
Failed to respond to questions
BetterLegal is not as big of a company as the other RA providers. But they offer many services such as business formation and compliance help, plus a well-priced registered agent service.
In fact, BetterLegal's registered agent service is one of the lowest-priced options around.
Other companies charge $100 or more per year to serve as registered agents. BetterLegal cuts that down to just $90 per year. For those that want to save the most money for a professional RA service, BetterLegal could be worth considering.
BetterLegal has more than 200 customer reviews on Trustpilot, landing at an overall rating of 4.8 out of 5. The company seems to keep its customers satisfied across the board with its services.
Many of the reviews focused on the business entity formation service. But we found some customer ratings for their registered agent service and the users did not have anything negative to report. Most customers seem satisfied with BetterLegal's services and responsiveness.
During our review of BetterLegal's terms of service, we discovered it expressly states that the registered agent service is not a general mailing service. If unauthorized mail comes across, BetterLegal's third-party servicer might charge extra fees.
BetterLegal areas for improvement:
BetterLegal does not use in-house staff to complete every task. Instead, they partner with outside services for help. Unlike other companies that take this same route, BetterLegal does not provide any details about the companies that they work with. This means that people who buy their RA service are unable to know who will be handling their mail.
We reached out to BetterLegal to get more details about this issue and some other questions we had. Sadly, we never received a response. This was highly unusual in all our research and leads us to question their customer service capabilities.
7. Swyft Filings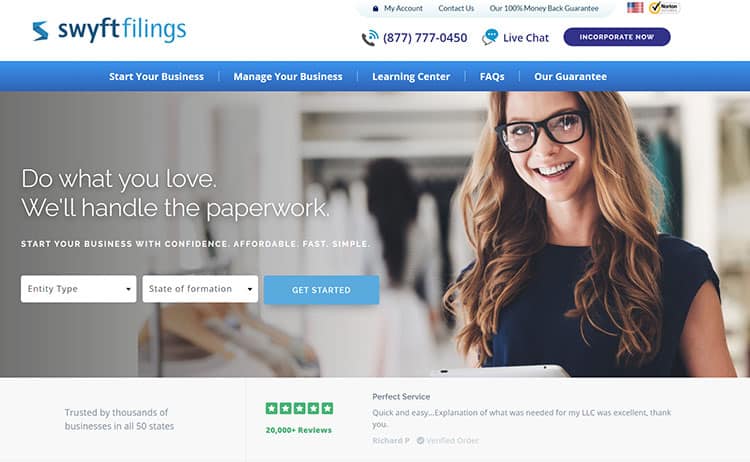 Cost: $596 per year ($149 per quarter)
Advantages:
Online portal
Rapid access to scanned documents
Compliance assistance
High customer ratings
Offers a refund for up to 60 days after purchase
Disadvantages:
Extremely high price
May not offer RA service in all states
Swyft Filings started operations in 2015. It is a privately-owned company based in Houston, Texas. They focus on business services and part of their product offerings include registered agent services. Hiring Swyft Filings as your registered agent costs $596 per year, which they list as $149 per quarter.
Despite being a relatively new company, Swyft Filings has amassed more than 35,000 customer reviews. They have an overall rating of 4.7 out of 5 on Trustpilot and 4.5 out of 5 on Sitejabber. We are impressed with the company's ability to keep its customers satisfied.
Swyft Filings uses a third party to help with their registered agent services, which is not uncommon among the RA providers we compare. Swyft Filings uses LegalCorp Solutions for the registered agent services, which is clearly indicated in the terms of service. While we prefer in-house teams, it is helpful that Swyft Filings informs its customers of who is involved.
Those who use Swyft Filings will get access to a secure online portal customized for your services. When they receive legal mail or service of process, it gets scanned right away and you can see it immediately through the online portal.
Any legal mail your company receives is saved in secure cloud storage, allowing you to access it anytime you wish.
Swyft Filings also has a reasonable refund policy. A support staff member told us if you decide to cancel any of their registered agent services, you can get a full refund within 30 days or a prorated refund if canceled within 60 days.
Another useful feature of Swyft Filings' services is they can help you stay on top of important deadlines for compliance needs. They'll send reminders about required state filings, including recurring obligations like annual reports.
Swyft Filings areas for improvement:
With an annual cost of $596, Swyft Filings' registered agent service is about six times that of the other high-quality RA providers we rank. Throughout all our research, Swyft Filings' price was the most expensive option. While sometimes it can be worthwhile to pay more for a higher-quality product, the extreme difference is incredibly difficult to justify.
On top of the high price, we also found the advertised price might mislead customers. On Swyft Filings' website, they advertise their registered agent service for $149. Potential customers must read the fine print to discover that this cost is a quarterly billing, not an annual one. The true annual price is four times the advertised price. We strongly prefer companies that are more transparent about prices. Swyft Filings' quarterly cost is closer to the annual price of competitors, putting it into a different ballpark.
Another area in which we were disappointed with Swyft Filings' registered agent service is that it is not available in all 50 states. We contacted the customer service department to find out that the RA services through LegalCorp are only available in 47 out of 50 states. They failed to mention which states it is not available in.
Lowest Rated Registered Agent Services
To provide everything you need to make the best decision, this section covers the registered agent services that did not make our cut.
Incfile
Cost: $119 per year
Incfile has built a reputation by providing a free business entity formation package. You can get one year of free registered agent services with an LLC formation package. Incfile also allows established companies to hire them as registered agents for $119 per year.
Incfile areas for improvement:
At first glance, Incfile's RA service seems to be fairly priced. But after digging around through customer reviews, we found many dissatisfied reports.
On Trustpilot, Incfile has a dismal 2.8 out of 5 overall rating, including about half of all reviews giving the company the worst possible one-star rating.
Many of the unhappy customers said that Incfile's service is slow and the customer service support was hard to get help from. These are two essential elements of a registered agent service, making it difficult to recommend Incfile to fill this need.
Nolo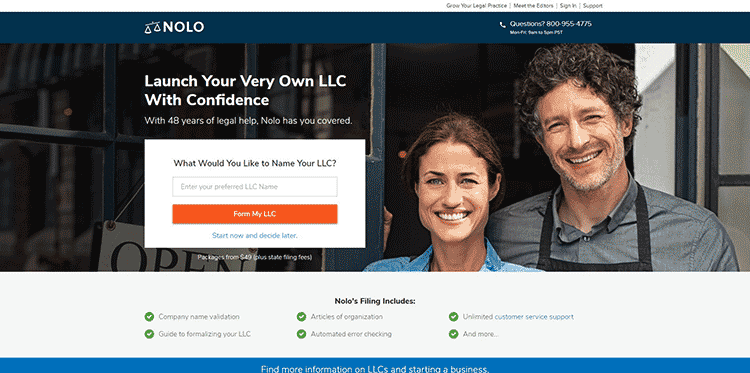 Cost: $150 per year
Nolo is a pioneer in the self-service legal world, with decades of experience publishing self-help legal manuals. The company currently focuses on many legal services and online publications. They sell legal software, provide LLC formation packages, and can get customers in touch with lawyers.
If you use Nolo to form an LLC, they will offer you a registered agent service through a third-party provider.
Nolo areas for improvement:
We didn't like what Nolo offers for registered agent services because of the inflated cost. Nolo uses Vcorp to handle the RA service. If you go directly to Vcorp to buy a registered agent service, the cost is $115 per year. But if you buy it through Nolo, this same service from Vcorp will cost $150. There is no justification for a $35 annual markup to get an identical service.
Incorporate.com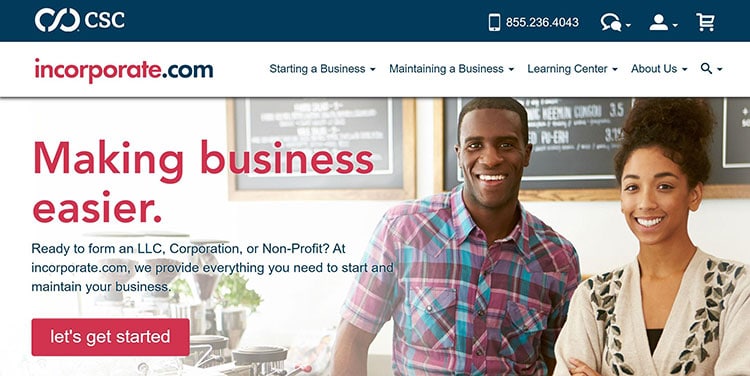 Cost: $235 per year
Incorporate.com's main service is helping people create new business entities. It is a subsidiary of the Corporation Services Company, also known as CSC.
Part of their product lineup includes registered agent services for established companies. Rather than outsource this to a third-party provider, Incorporate.com goes through its parent company CSC to handle RA services.
Incorporate.com areas for improvement:
With a price tag of $235 per year, Incorporate.com's RA service costs much more than other high-quality RA providers.
You can find registered agent services for less than half the price of Incorporate.com's offer. On top of that, Incorporate.com charges extra fees to new customers for them to handle the necessary changes to the state records. While the customer can do this themselves to avoid this fee, other providers will handle this as a part of their RA services at no additional cost.
These change fees can add up to over $120 in some states. Why pay for this yourself when other registered agent services will do it on your behalf and will cover 100% of these fees?
LegalZoom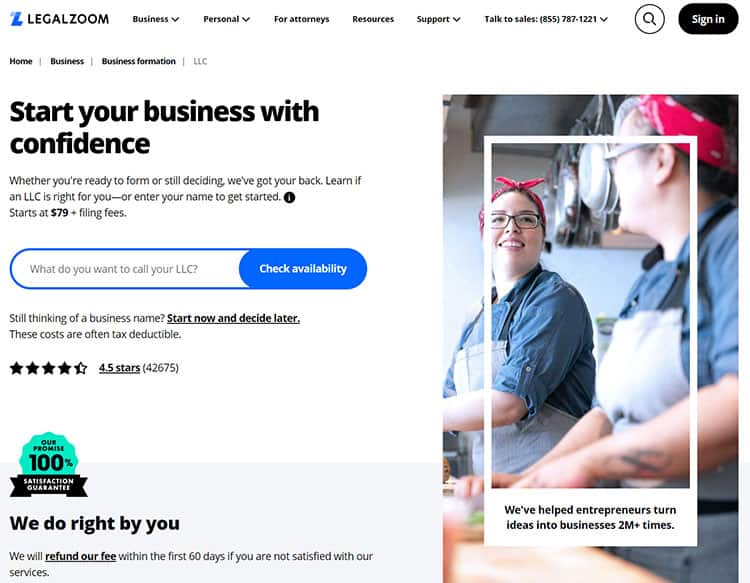 Cost: $299 per year
LegalZoom is a major player in the online legal help industry. They have built their reputation by offering business formation help, attorney consultations, and an extensive library of legal documents.
LegalZoom's areas for improvement:
LegalZoom's $299 price per year for registered agent services is one of the highest-priced options around.
Through our research, we found nothing that backs up such as high cost when compared to others. We also reached out to LegalZoom through email and received a standard message asking us to call their sales team on the phone. Other providers were often quick to respond with detailed answers in the method we reached out in.
What To Look For in a Registered Agent Service
In this section, we review some of the essential aspects you should look for when hiring a registered agent. We're also going to let you know how we use these metrics to generate our rankings.
Cost
No business wants to spend money on overpriced goods or services. And that's why we put the cost of the RA services as the paramount consideration in this process. All companies must appoint a registered agent, even though this role fails to generate additional revenue. It is hard to justify overpaying when high-quality alternatives exist.
At the same time, registered agents have a vital role in ensuring the health and compliance of every company. Going for the lowest-priced option could result in serious consequences. If your registered agent doesn't notify you of a court summons or other legal notices, your company could lose a lawsuit through a default judgment.
It's also worth checking out the additional features included. Some of the higher-priced registered agent providers include useful add-ons like physical mail forwarding and routine compliance reminders.
To ensure we provide the full picture, we evaluate the price while also considering the overall value. When a low price comes with substandard service or other potentially harmful results, we factor that into the ranking. We do the same when a higher price is warranted due to extra useful services.
Customer Service
Failing to have a customer service staff that can provide rapid and informed help can lead to frustration and negative outcomes. When it comes to registered agent services, you need someone who will be there for you.
The premium customer support providers will go above and beyond by not only responding to customer questions, but also identifying other things the customer might need to know about.
If you hire someone to serve as a registered agent, the company should do everything it can to notify you if they receive legal service of process. They should try to get in touch by email, phone, or mail to ensure you receive as much time as possible to respond to a legal notice.
Document Availability
The things sent to a registered agent can often be time-sensitive legal documents. That's why it's important to understand how a RA service will notify you and provide any documents when received.
The registered agent providers we analyzed often scan any notices and upload them to a secure online portal. This allows customers to receive prompt notification of the document and immediate access to its contents.
The best RA services provide round-the-clock access to these vital documents and take the necessary steps to verify that their customers receive rapid notification of the mail. Some will even go as far as physically forwarding the original documents when needed.
Extra Features
Some of the companies we looked into add more value to their registered agent packages by including extra useful features. These include customized reminders for ongoing compliance concerns, such as annual report filings.
Another extra feature some registered agent services provide is basic mail forwarding. The registered agent's address is listed in public records, so someone may reach out to this address even though it's not a legal issue.
We don't consider these to be essential aspects of a registered agent service. But they can be nice add-ons that make your life easier. Therefore, we include these extra features as part of our rankings to separate otherwise equal competitors.
Four Points To Help Select the Best Registered Agent Service
Throughout our research process, we uncovered many things that are worth considering when shopping for a registered agent service. This section lists some useful tips that you might want to keep in mind.
Canceling registered agent services can be challenging
In the best-case scenario, you go through the process to hire a registered agent once and use that service for the lifespan of the business. But real-world situations don't always work out so nicely. Sometimes you might need to cancel an RA service and it's important to consider this fact before committing.
Most registered agent service providers do not allow cancellations of their service as long as they are the RA on the official state record. You can find this small detail in the terms of use for many companies. How they handle this can directly impact your ability to walk away.
In some cases, your RA service can continue to charge you a fee for as long as they are the RA agent on file. Even if you cancel their service, they will continue to charge the fee until the state information is updated or the company is dissolved.
Since many registered agent services are billed as one annual fee, this can cause a sizable expense that you may not have wanted to incur. Some providers offer prorated refunds while others have more limited cancellation policies.
To help you steer clear of these headaches, check out the terms of service before hiring a registered agent. Understand what it will take for you to get out of the deal if the time comes, and keep this in mind for future reference.
In-house staff or third-party partners
Every option in our ranking sells registered agent services to their customers. But there is a fundamental difference in how some complete the ongoing tasks. Some companies have a large in-house staff dedicated to carrying out all registered agent functions. Others leverage third-party partners to handle this role, including the receipt of sensitive legal documents and government notices.
When RA providers pair up with outside partners, your relationship doesn't change much. You usually deal with the customer service of the company you signed up with and pay the fees to them.
Yet, it's always best to know how your registered agent tasks are handled. Many companies that use a third-party provider will inform you of the specific company used, which you can use to ensure the service is trustworthy and reliable.
Mail forwarding options
For some business owners, understanding the role of a registered agent can be confusing. You can add another layer of mystery when hiring an RA service as they can decide what is part of their services and what isn't.
The registered agent's address is primarily used for legal service of process and other vital notices, such as government correspondence. But in some cases, other business-related mail can go to the registered agent's address.
For some companies, such as newer startups without a physical location, a mail forwarding service can be very useful. It provides an address to use and lets you keep your home address confidential.
When it comes to professional registered agent services, most of them are not willing to forward your general mail. Instead, they focus on vital legal documents and prompt notification of anything in that category.
To use one address as a registered agent and generic business mail, you need a registered agent service that offers mail forwarding. It's crucial to recognize this need before you sign up for any RA services.
During our research, many RA providers expressly told us that they do not offer mail forwarding, period. The ones that do usually offer it as an add-on package at an extra cost.
Registered agents in multiple states
Depending on your business, you might need to have registered agents in multiple states. This does not apply to every operation and instead is often dependent on the business activities involved and the specific locations.
If you operate multiple business entities, you'll likely need to hire a registered agent for each one. And if you have special situations, like being classified as a foreign qualified entity, your company might need to appoint a registered agent in a state outside of the company's home state.
When these situations apply, it's best to look into the pricing models available. Some registered agent services come with multi-product or bulk ordering discounts. These could add up quickly when multiplied across many states, entities, or years.